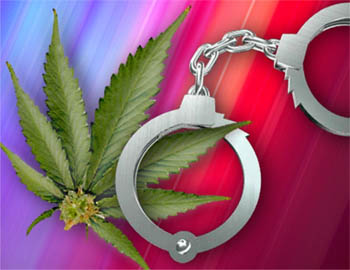 We must all be responsible adults especially *law enforcement and other professionals in the media and health care fields and seriously look at and listen to the scientific evidence.
Cannabis keeps getting compared to the toxic (deadly) drug alcohol. Cannabis is not toxic. Cannabis and alcohol are just not the same. Under the influence behaviours are not the same as alcohol or pharmaceutical drugs for the most part.
Daily medical cannabis consumers generally gain experience and tolerance fairly quickly. People would not be impaired if they took an aspirin for a headache the same can be said for most daily medical cannabis consumers.
Several years now pharmaceutical drug advertisements have included warnings about possible side affects that could cause impairment, statements like, know how our drug affects you before operating motor vehicles or equipment. In other words consumption does not automatically equal you're impaired.
Distracted driving and walking is impaired behaviours. Parents drive while distracted by their children. Pet owners drive while distracted by their pets. Using a cell phone. Lack of sleep, human emotions, stress, mental health and more are all part of the important impaired issue.
Education based on scientific evidence only without the typical proven reefer madness nonsense.
*Irresponsible law enforcement and media professionals

See Dr. Susan C. Boyd, a B.C. researcher's book "Killer Weed: Marijuana Grow Ops, Media and Justice". about how law enforcement and media are not telling the facts.
Google Dr. Susan C. Boyd's "4 Reefer madness is governmental" for more.
Note: Dr. Susan C. Boyd is a member of Liberal government "Task Force on Marijuana Legalization and Regulation"
June 3, 2016
Motor Mouth: Hysteria over 'high driving' is all half-baked
Marijuana, by most measures, is not in any way the scourge that alcohol is
http://driving.ca/auto-news/news/motor-mouth-hysteria-over-high-driving-is-half-baked
August 5, 2014
Since marijuana legalization, highway fatalities in Colorado are at near-historic lows
https://www.washingtonpost.com/news/the-watch/wp/2014/08/05/since-marijuana-legalization-highway-fatalities-in-colorado-are-at-near-historic-lows/
April 6, 2012
Marijuana Users Are Safer Drivers Than Non-Marijuana Users, New Study Shows
http://www.prweb.com/releases/2012/4/prweb9375729.htm
November, 2011
Medical Marijuana Laws, Traffic Fatalities, and Alcohol Consumption
D. Mark Anderson University of Montana and Daniel Rees University of Colorado
Abstract:
16 states have passed medical marijuana laws, yet very little is known about their effects. Using state-level data, we examine the relationship between medical marijuana laws and a variety of outcomes. Legalization of medical marijuana is associated with increased use of marijuana among adults, but not among minors. In addition, legalization is associated with a nearly 9 percent decrease in traffic fatalities, most likely to due to its impact on alcohol consumption. Our estimates provide strong evidence that marijuana and alcohol are substitutes.
calgary420.ca/pdf/driving/dp6112.pdf
2007
CANADA SAFTEY COUNCIL
DRIVERS ON POT – ISSUES AND OPTIONS
HOW CANNABIS USE AFFECTS DRIVING
Alcohol causes more impairment than cannabis and carries a demonstrably higher crash risk. Drivers under the influence of cannabis are acutely aware of their impairment. They consciously try to drive more cautiously, for example by slowing down, focusing their attention and avoiding risks. Drinking drivers show more risk taking and aggression in their driving, have no insight into their impairment, and do not try to compensate.
https://canadasafetycouncil.org/traffic-safety/how-cannabis-use-affects-driving
2003
CANADA SAFTEY COUNCIL
HOW DOES POT AFFECT DRIVERS?
The psychoactive chemical in marijuana is tetrahydrocannabinol (THC). THC has a very different effect from alcohol. Pot users are acutely aware of their impairment – that is, they feel "high" – and some try to compensate by driving more cautiously.
https://canadasafetycouncil.org/traffic-safety/drivers-pot-issues-and-options
2002
REPORT OF THE SENATE SPECIAL COMMITTEE ON ILLEGAL DRUGS – SenateReport.ca
CANNABIS: OUR POSITION FOR A CANADIAN PUBLIC POLICY
Chapter: 8 Driving under the influence of cannabis
• Cannabis alone, particularly in low doses, has little effect on the skills involved in automobile driving.
• Cannabis, particularly in the doses that match typical doses for regular users, has a negative impact on decision time and trajectory.
• Cannabis leads to a more cautious style of driving.
• The effects of cannabis when combined with alcohol are more significant than for alcohol alone.
http://www.parl.gc.ca/Content/SEN/Committee/371/ille/rep/repfinalvol1part4-e.htm

---